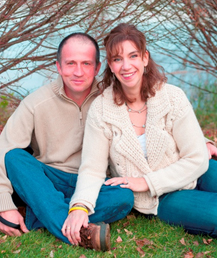 Before Jeffery Toomey started Toomey Landscape in 1996, he had been involved with the construction and green industry for more than two decades. Gaining valuable experience working with respected members of the profession, his vocation took him from being a crew leader installing both hardscapes and plantings, to a nursery field worker, to being a projector supervisor and designer.
His formal education began at the Stockbridge School of Agriculture where he received his Associates of Science degree with an emphasis on science and construction skills. Afterwards he continued on to earn a Bachelor of Science degree in Landscape Architecture, at Umass Amherst. With this degree, Toomey was immersed in design theory and the understanding of human interactions with the built environment.
With the birth of their daughter in 2008, the business truly became family owned. Jeff's wife Jana followed her love of plants, and their daughter, to lend her business knowledge to running the office. You can also find her in the field handling their fine gardening services.
Jeff can be found most often on the jobsites sharing his eye for detail, and passion of the environment, with his dedicated staff. His personal dedication to the process ensures that quality construction remains the most important goal of the company. This work ethic combined with solid design, will enhance the beauty and value of your property for decades to come.


Affiliations

Stockbridge School of Agriculture - Alumni Association Volunteer
New Hampshire Landscape Association - Member
Interlocking Concrete Paver Institute (ICPI) - Member



Certified Concrete Paver Installer

National Concrete Masonry Association



Certified Segmental Retaining Wall Installer

Certified Techniseal Applicator